The Most Effective Treatments
Bed Bug Control in Central and Southern New Hampshire
Bed bugs have been around for more than 3,300 years. They are tiny insects that like to take refuge in beds and feed on humans, typically at night when they sleep. They feed on blood, which they need to grow and survive. They are also known to attack other warm-blooded animals such as birds and poultry.
Bed bugs are known as "hitchhikers." They will hitch a ride anywhere, which allows them to travel long distances. Then they take up residency where people gather like homes, hotels, offices, schools, stores; you name it, they can be everywhere, even traveling using public transportation.
As they travel, they latch onto clothes, suitcases, and many other items. Then they end up exactly where these items end up.
Bed bugs grow to approximately 3/16th of an inch in length. They are oval in shape with six legs and two antennae. After they have drawn blood, they become, elongated, swollen, and red in color. 
Bed Bug nymphs are smaller and lighter in color, therefore harder to identify, whereas adults are larger, visible, and can be seen by the human eye.
Signs of a Bed Bug Infestation
Garfield Pest Control offers insect control services out of Merrimack, NH, serving Central and Southern New Hampshire. You might have a bed bug problem if you notice:
Rust-colored spots on your sheets
Tiny, tick-like bugs in your room
Itchy, red bites on your body
An unusual musty odor
Black fecal spots on your mattress
How To Protect Yourself Against a Bed Bug Infestation
When traveling and around groups of people, always be on the lookout.

When in hotel rooms, thoroughly inspect the room, all parts of the bed, including the bed sheets. A tell-tale sign there are bed bugs is if you see blood spots, the bugs themselves, or their eggshells.

Bring a small flashlight with you on all trips when you are going to stay in a hotel to assist you in your visual inspection.

When you arrive home, visually inspect all of your items, vacuum suitcases, and wash all clothes in hot water, even those that have not been worn.

Thoroughly inspect all second-hand furniture, box-springs, and mattresses before bringing them into the home.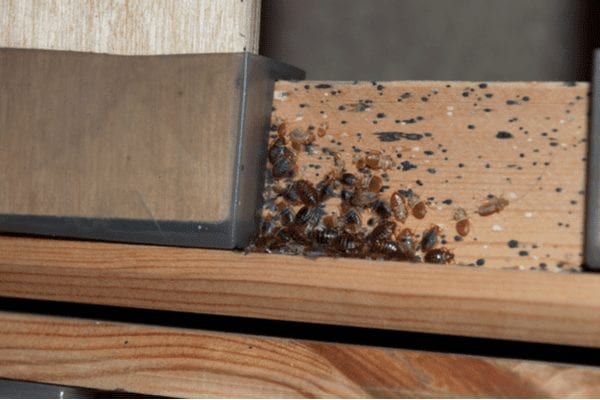 Have bed bugs infested your home? Don't panic; Garfield Pest Control provides professional pest control services in Central and Southern NH, out of the Merrimack, NH area.
Call us today to arrange for bed bug control services. We'll make sure you don't have to share your bed with bothersome bugs any longer.
Bed bugs are notoriously difficult to eradicate. When you call us, we'll ask you to complete a few tasks in preparation for our visit to your property. Once these have been completed, we'll treat the cracks and crevices around your home where bedbugs love to hide. We use products that are time-proven and safe to use.
Every situation is different. We are committed to 100% customer satisfaction. Our bed bug control services are guaranteed to achieve results. Call us right away or fill out our secure online form to set up your bed bug extermination appointment.